Tears of Guthix Quest Guide
Difficulty:
Novice
Length:
Short
Members only:
Yes
Reward:
1 quest point
1000 Crafting XP
Access to the Tears of Guthix cave and the Tears of Guthix mini-game
Start:
Talk to Juna in the Lumbridge Caves.
Needed skills:
Needed quests:
You need to have at least 43 Quest Points.
Needed items:
Walkthrough
1. Juna can be found south in the Lumbridge Caves.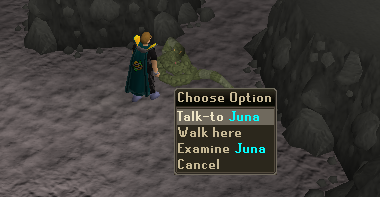 2. Extinguish the lantern, and use the sapphire on it. Then, relight it.
3. Use the Sapphire Lantern on one of the nearby Light Creatures. Note that the Light creature can't be too far away from you. When a Light Creature gets attracted, it will take you to a cliff with some rocks you can mine.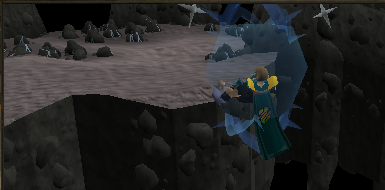 4. Mine the rock, and use the Chisel on it. Then, use the Sapphire Lantern on a Light creature again to get back to Juna. Talk to Juna, and you will be asked for another story. Juna will also keep your stone bowl, but you get it each time you do the Tears of Guthix mini-game.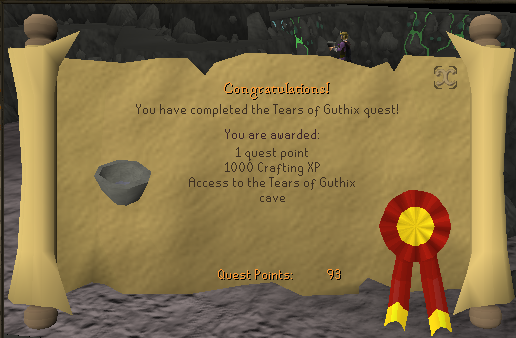 The Tears of Guthix Minigame
This minigame is easy to understand, but not so easy to do. Remember that his minigame can only be done once a week.
To do it, talk to Juna. You will need to tell a story. Then, Juna will give you the bowl, and your task is to collect as much water as you can with the bowl. You have 90 seconds to do it, and you can collect 1 water per second.
Blue Stream gives you +1 water.
Green Stream gives you -1 water.
Simply click on the blue streams, and try to avoid the green ones.
When the time is up, you will get some XP towards your lowest skill. The XP given depends on how much water you collect. Higher amount of quest points increases the time you are allowed to collect water, thereby giving you more XP.
---
Guide credits
Guide originally written by:
Aliensvortex
Special thanks:
Call Me Larry
Last update:
09-Jun-2010 01:07
by Angel