Crafting Guild
Introduction
The Crafting Guild is located south-west of the city of Falador
[map]
. To gain admittances, you will need a minimum of level 40
Crafting
and wearing a
brown apron
when entering the guild.
The guild provides everything you need to craft. Throughout this guide you will see everything about it. This includes items, kinds of ores, and much more.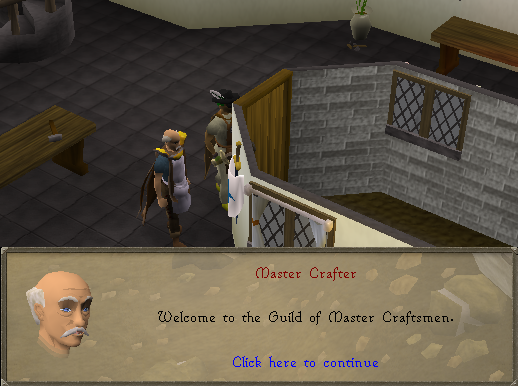 Ground Floor
Here you will find most of your crafting needs including a sink, pottery oven, pottery wheel and even an enclosed mine exclusively for guild members containing clay, silver and gold and lastly a relaxing area where you can have a clear view at the cows grazing on the fields. Spawns on this floor includes a hammer, chisel, amulet mould and jug.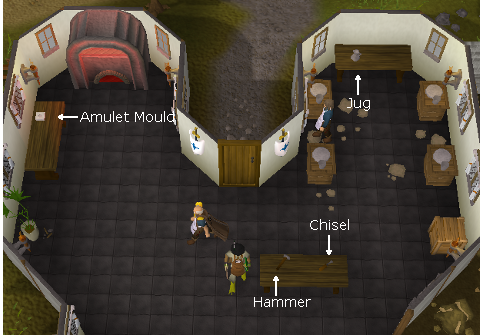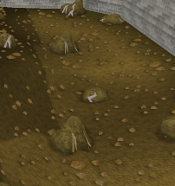 Mining area
The mining area of the guild contains a total of 19 mining rocks:
•
6
Silver ores
•
6
Clay
•
7
Gold ores
Cow pen
The Cow Pen is a good place to make money, and for lower levels to train. This place is usually not as crowded as the cow pen in Lumbridge or Falador. Cow Hides sell for 100-200 gp each.

Top Floor
Here you can find the guild's very own tanner who will charge you 1gp per normal leather and 3gp for hard leather. Spawns on this floor are necklace mould, holy mould and shears.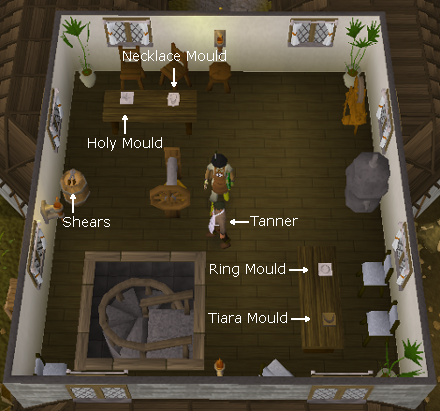 ---
Guide credits
Written by:
Ken
Special Thanks:
Rank Penguin
Last update:
03-Sep-2010 03:01
by Deathen Shada