RuneScape News

Community News
Welcome to Global RuneScape! Global RuneScape is a RuneScape fansite with hundreds of detailed guides, maps and quest walkthroughs! We offer databases containing information about thousands of items and monsters, in addition various tools designed to enhance your RuneScape experience. We also have a friendly and helpful community where you can discuss and ask questions related to RuneScape!
Global RuneScape veteran and ex-RuneScape player Chokelius takes a look back at what GRS means to him and discusses whether fansites are still necessary in a modern age of Wikis and Jagex provided player guides.
Read more...
19-Aug-2012 – Herald: A New Global RuneScape
Making its triumphant comeback this week the Global RuneScape Herald returns with none other than GRS veteran
Chokelius
taking a look at what the site means to him and what the future of RuneScape holds for both Global RuneScape and other RuneScape fansites in '
A New Global RuneScape
'.
Chokelius helped greatly with the site in its early days, submitting vast amounts of detailed and high quality content so be sure to give him a big warm welcome back and let him know what you thought of this week's herald in the comments below!
We're always looking for new Herald contributors so if you've got a great idea that you think would make an interesting article then don't hesitate to get in touch!
13-Aug-2012 – Some Like it Cold Quest Guide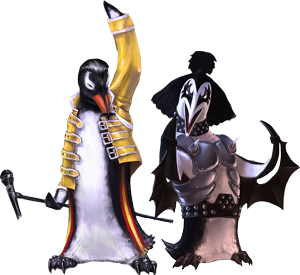 The Global RuneScape team is proud to present its guide for the latest quest in RuneScape,
Some Like it Cold
. Head back into the icy north and help rescue a polar bear spy from the clutches of a POW (that's Prisoner of Walrus!) camp. Many thanks to
Flinched
for this great guide!
Teddy - an agent of the PBJ - has gone missing while on the trail to find Larry. Chuck has received a ransom note from the Walrus and has asked you to investigate. Become a roadie for the famous Ping and Pong and break into a PoW camp to save Larry.
12-Aug-2012 – The Return of Global RuneScape
Hello loyal Global RuneScapers! It doesn't take much to see that things have been a little less than active around Global RuneScape recently. Due to some staffing issues and other preoccupations, things have fallen a little flat over the past year.
However, onto the good news - we're back! We've reassembled an elite team of 'Scapers and veteran GRS'ers to help restore Global RuneScape and return it to its rightful place as one of the best RuneScape fansites on the internet!
As a
gold-level Jagex recognised fansite
, you can expect only the best and most concise guides and tips for all of the latest and hardest content in the game along with a bustling active community to share all your stories, strategies and PKing victories with.
Of course, we're going to need a lot of help and that's where
you
come in! If you'd like to help submit any guides, items or monsters then you can do so by heading over to the
Submissions / Updates
forum. As things are always changing in the world of RuneScape, we're also always in need of updates to the existing content on the website so if you spot anything that's not quite right any more in a guide then please do let us know in the forums! All contributions will be rewarded with contributor points, allowing you to rank up and show your GRS pride among the forums!
We have lots of exciting website updates in the pipeline which we're sure will make your day-to-day RuneScaping that little bit easier and more fun so we'll be sure to keep you updated on those as and when we can!

Welcome back all and we look forward to seeing you online!
29-Oct-2010 – New Herald Article
Hello all! In the spirit of our current skill week, I've taken the liberty of writing a short article on why Dungeoneering can be an enjoyable skill. You can find it in the
Global RuneScape Herald
!
Feel free to discuss it
here
after reading. Is it enjoyable to you?
"Dungeoneering is controversial, challenging, and enjoyable. This latest Herald entry gives insight into why it is enjoyable to a large portion of the RuneScape community. Enjoy the read!"
24-Oct-2010 – Tormented Demon Slaying Guide
The
Tormented Demon Slaying Guide
is up and running. Many thanks to
I R 456
on the making of this great guide!

---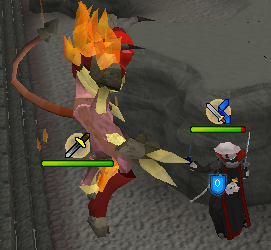 ---
Sincerely,
Deathen Shada
-
The Content Team
-
15-Oct-2010 – Mining Training Guide (F2P)
Since the Woodcutting Training Guide has been released, me and Kevin have been at hard work with a new guide. I present you with the newly finished, hot of the press
Mining Training Guide (F2P)
! This guide was written by myself (
Deathen Shada
), and
Kevin
. Special Thanks to
Rank Penguin
for the beautiful animated picture you see below, and
Anna Molly
for the use of certain parts of his never finished Mining Training Guide. So everyone have a look and the new guide, and have a blast mining! If you find any errors or bugs, please send me a
Private Message (PM)
and I will try to fix it ASAP

---
Mining, it's what makes the RuneScape economy go round. Without it you wouldn't have your Runite Platelegs or the limestone bricks for your house. This is one of the best ways to make money in the game. A single Runite Ore is worth up to 13k! In this guide we will cover how to get you the leet cape and where the best training spots are.
We will be covering free to play methods only!

---
Sincerely,
Deathen Shada
-
The Content Team
-
30-Sep-2010 – Aliensvortex's Trip to Jagex and RuneFest
Hello all! As many of you may already know, I was invited by Jagex to the real-life RuneScape event organized by Jagex, RuneFest 2010, in London. During my stay, I also got to visit the Jagex offices. Head over to the Herald to read about
my trip to Jagex and RuneFest
.
After you've read the article, feel free to ask me any questions in
this thread
. I may also post more images in the thread, as I have lots of images that I chose not to add to the article in order to not make it too long.
Enjoy!
26-Sep-2010 – Firemaking Training Guide
Once again, our very own Content Team Members have got together and written a guide. So everyone please congratulate
Kevin
,
Rebel007
, and myself (
Deathen Shada
) on the making of this wonderful guide. So everyone pop on over and have a look at the brand new
Firemaking Training Guide
!

---
The Firemaking cape is one of the more common skillcapes you will see around Runescape. It is an easy skill, involving only logs, a tinderbox, and a decent amount of time and patience. There are a few different ways we want to show you how to save money, or shorten the time it takes to get 99 Firemaking. We'd also like to go over the different locations that are best for training. This will include both F2P and P2P locations.

Sincerely,
Deathen Shada
-
The Content Team
-
21-Sep-2010 – Gunnar's Ground Quest Guide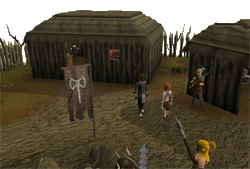 Hello all! We've just released a quest guide for the latest quest in RuneScape,
Gunnar's Ground
. Note that this is a rather short and easy quest, and for most players, it should be easy enough to complete without a guide.
A smitten dwarf sits lone, forlorn;
His love full-formed but lost.
Will you help to guide his path and
Uncross a love star-crossed?
---
Since this quest has replaced the Romeo and Juliet quest, we've removed Romeo and Juliet from the list of quest guides. If you want to know more about why Jagex decided to remove Romeo and Juliet, see
this blog post by Mod Mark
.
06-Sep-2010 – Waterfiend Slaying Guide
The
Waterfiend Slaying Guide
is now up and ready thank to
Night_elf45
who has done a wonderful job. So stop on over and view this wonderful guide.

The Content Team
-
Deathen Shada