Cook's Assistant Quest Guide
Difficulty:
Novice
Length:
Very short
Members only:
No
Reward:
1 quest point
300 Cooking XP
The ability to use the cooking range in Lumbridge Castle.
Two extra spins on the Squeal of Fortune.
Start:
Talk to the cook in Lumbridge Castle.
Walkthrough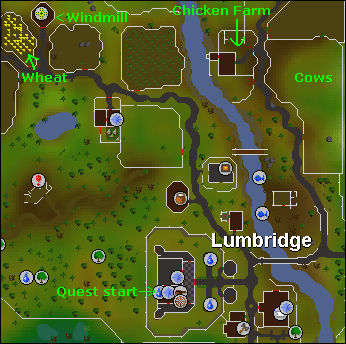 The cook will tell you that he need to make a cake, but he needs three ingredients: Egg, milk and flour. You need to get them for him. Before you go get the items, pick up a pot which should be on a table.

Egg: Go out of the castle, and cross the bridge to the east. Then, go north to the Chicken Farm, and find the egg. Pick it up.
Milk: In the chicken farm, there should be a bucket too. Pick it up, and go to the cows. Find a dairy cow, and click on it to milk it.
Flour: Go south of the cows, and cross the bridge to the west. Then, go northwest of Lumbridge, find the wheat farm, and pick some wheat there. Then, go to the top floor in the windmill, use the wheat on the hopper there, and operate it. Go to the ground floor and pick up the floor with a Pot.
Bring the ingredients to the cook in Lumbridge Castle to get your reward and complete the quest.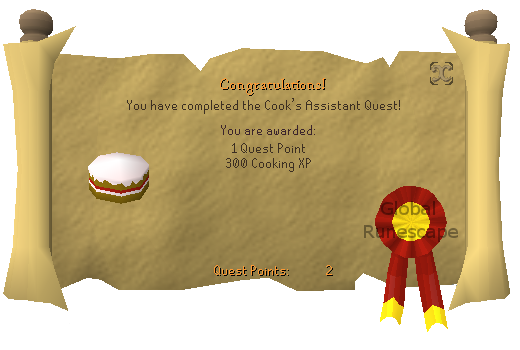 ---
Guide credits
Guide originally written by:
Aliensvortex
Special thanks:
Call Me Larry, Shane The Pain, Pineapple
Last update:
22-Sep-2009 14:42
by Pineapple