Goblin Diplomacy Quest Guide
Difficulty:
Novice
Length:
Medium
Members only:
No
Reward:
Start:
Talk with the either of the Generals in Goblin Village.
Needed items:
Walkthrough
Go to the Goblin Village, which is located well north of Falador (look at the worldmap) and talk with the Generals; General Bentnoze (Red) and General Wartface (Green). They will be complaining who is best. General Bentnoze is stating that Red is the best while General Wartface is arguing that Green is the best. You of course, being the stupid human asks why are two Generals arguing about the colour of your armour?

Thus is the start of your quest...
Now you need to make dyes to colour the goblin armours. To make the dyes, bring the ingredients to Aggie, which can be found in Draynor Village. She will ask for a few gold pieces too.

Red Dye: You need 3 redberries. Redberries can be bought in the cooking store in Port Sarim, or picked from the redberry bush south-west of Varrock near the mining spot.
Blue Dye: You need 2 woad leaves. Talk with Wyson the Gardener in the park in Falador. If you offer him 20 gp, he will give you 2 for generousity. Otherwise, you will need to pay 15 gp.
Here are the goblin mails you need.
Orange Goblin Mail: Use an orange dye on a normal mail. To make orange dye, use yellow dye with red dye.
Dark Blue Goblin Mail: It's a Blue Goblin Mail. Use a blue dye on a normal mail to make it.
Brown Goblin Mail: It's just the normal mail!
Now, go to the generals again and talk with them. After some arguing you tell the Generals you have some goblin armour in orange.They call their model, Grubfoot. After he tries it on, they actually agree for once! They don't like it, says the colour clashes with their skin colour.
So you talk with them again. The blue is too colourful, Goblins wear earthy colours. Talk with them again, and give them the brown, the normal armour. So they call Grubfoot one last time. The Generals actually find the colour to their liking. Quest complete!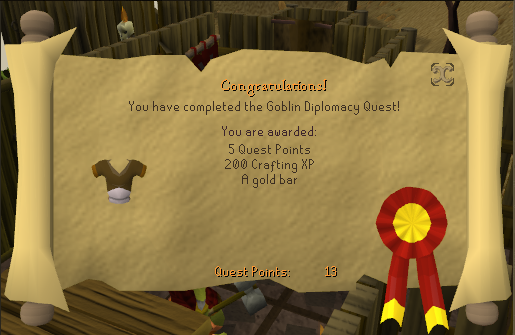 ---
Guide credits
Guide originally written by:
Aliensvortex
Special thanks:
Hitman, Pineapple, Predator
Last update:
25-Sep-2009 08:06
by Predator