My Arm's Big Adventure Quest Guide
Difficulty:
Intermediate
Length:
Medium
Members only:
Yes
Reward:
Start:
Speak to Burntmeat in the kitchen, deep in the Troll Stronghold.
Needed skills:
Needed quests:
You must have done some work on the Tai Bwo Wannai Cleanup minigame
It might be useful to have completed Enakhra's Lament
Needed items:
Climbing Boots (Or 12gp to buy them from Tenzing)
7 Super compost
3 Buckets
Plant Cure
Machete
Rake
Spade
Seed dibber
Recommended items
Multiple Teleports to the Trollheim (x2 Fire Runes, x2 Law Runes)
Games Necklace (To get to Burthorpe easily)
Ring of Dueling/Amulet of Glory (To get to Al Kharid easily)
Camulet
Good Armour/Weapon
Good Food (E.G Shark, Swordfish)
Walkthrough
Speak to Burntmeat in the Troll Stronghold kitchen, he will tell you that whilst cooking an adventurer he came across a place to farm Goutweed; he wants you to teach My Arm to farm.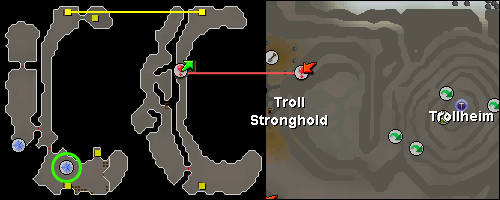 Speak to My Arm in the eastern part of the room, and he will tell you about a strange Goutweed object near Death Plateau. Go over and speak to Burntmeat about this, if you need it, he will tell you how to get to the spot. Otherwise head up and through the prison towards Death Plateau. Head south of Trollheim towards an "arena" type area, climb over the agility obstacle (Climbing Boots needed) and then go to the middle and search the cooking pot.

You will find that you need to try and scoop it, use your bucket with the cooking pot and you will find a Goutweedy lump, go back to My Arm and show this to him.

He will eat the lump and lead you to his farming patch. Once there, speak to him and he will give you a farming manual and tell you to read it.

After reading the manual speak to My Arm again and you will discover you need three buckets of camel dung and seven buckets of super compost, now teleport to Al Kharid. Equip your camulet and speak to any camel around Al Kharid and ask him for his dung, you will close your eyes and the dung will appear.
Note: If you don't have a Camulet, you can get the camel dung from Pollnivneach.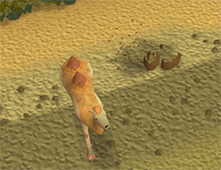 Teleport back to the stronghold and use the buckets of super compost and camel dung on the farming patch, then speak to My Arm again. He will tell you that you need to get a goutweed tuber from Barnaby in the Tai Bwo Wannai Village. You will now see a cutscene where you board the ship from Ardounge to Karamja.
Now head to Tai Bwo Wannai Village where you will meet My Arm near the general store, talk to him and he will tell you to speak to Murcaily near the Mahogany and Teak tree area. He will tell you that you need to use a hardy gout tuber to grow goutweed in the mountains, he won't give you the gout tuber unless your village favor is 60% or higher. (To gain favor, use your machete to cut the Light, Medium and Dense forests, or fix the fence). Once your favor is 60% speak to Mercaily and claim your hardy gout tuber.

Once you have the hardy gout tuber a cutscene will play where My Arm plays a "Rumble in da Jungle".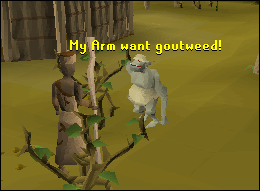 Murcaily will give you more hardy gout tubers as long as you get rid of My Arm. You will now be back with My Arm and he tells you that there is a big bird that tries to eat whatever he grows; you will now be taken back to Ardounge. Get your good armour and weapon out of you bank along with some good food (e.g shark) also bring a spade, rake, seed dibber, plant cure and the hardy gout tubers. Teleport back to Trollheim and go back to the farming patch on the roof. Now speak to My Arm then use your rake on My Arm and he will weed the patch, once he has finished give him the hardy gout tubers and a seed dibber. He will now plant the gout tubers.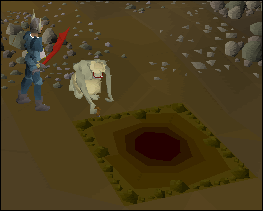 A funny cutscene of a drunken dwarf will now play.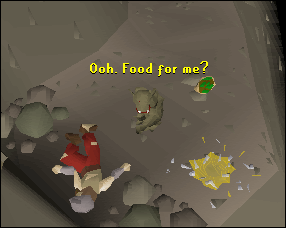 Now the plant will become diseased, give My Arm the plant cure, then speak to him again and a Baby Roc (Level 75) will appear, this is not a hard battle. Once he is near to death, get ready for the next battle with Mama Roc (Level 172). Mama Roc uses all three attack styles; Magic, Ranged and Melee. Its ranged attack is the most powerful so it's advised to use protect from range prayers, her melee attack is the weakest and her magic attack will stun you for a few seconds.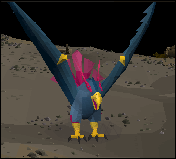 Once Mama Roc is dead, speak to My Arm and the goutweed will be grown, use a spade on my arm and he will harvest it and level his farming.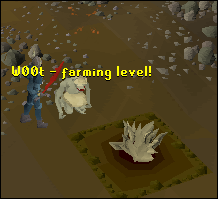 Now return to Burntmeat to claim your reward... a full inventory of burnt meat! Speak to My Arm to claim your real reward.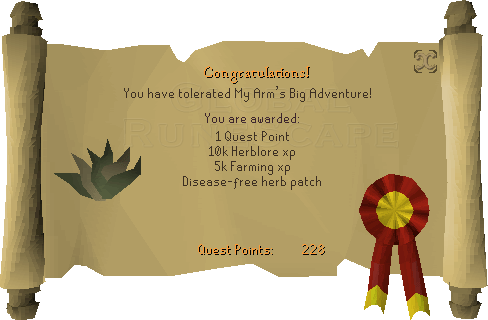 ---
Guide credits
Guide originally written by:
[M]ike
Special thanks:
Aliensvortex
Last update:
08-May-2010 13:27
by Aliensvortex